February 2012
To start February off, I would like to show you some images taken over Christmas. While over in Scotland for Christmas, I took a trip to the Wildfowl and Wetlands Trust at Caerlaverock just outside Dumfries. This is a great place to see and photograph Whooper Swan that spend the winter here. It's a good idea to get there before feeding time (11:00am) when many birds will fly to the lake giving great photo opportunities. Unfortunately there was no snow this year, fewer birds (maybe because the winter was not so cold) and the drizzle was a nightmare for photography
[You should also see Barnacle geese, Wigeon and other common ducks. Have also seen Yellowhammers along the hedge.] Sill, we managed to get a few nice shots,
which you can see here Recent
Also over the Christmas, I took some picture of male and female Sparrowhawks.
I have placed a few here but am holding back the best ones in the hope that someone will publish them. In one a female sparrowhawk came flying in to the feeders with such force that I was sure that it would be hurt. A fraction of a second later she few to this tree stump and only then could we see the blue tit. In the opening shots the blue tit is visible alive, but within 30 seconds, the beak closed and the sparrowhawk flew off. With the camera set to "silent mode" only a few shots were taken, but luckily they were spot on. I doubt I will be this luck again with a sparrowhawk.
Also came across this Leucistic Chaffinch over christmas. Leucism is a condition where reduced pigmentation in birds causes the feathers to appear pale or white. You may have hear of a white blackbird. If you've never come across it, have a look at Wikipedia where there is an image of a white lion.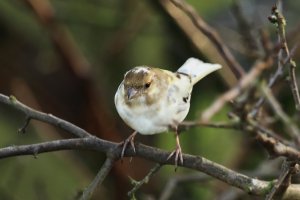 Irish Photographer Of The Year 2010 - Andrew Kelly
After being short-listed by Magazines Ireland, it was a real pleasure to receive this award in recognition of the photography I have done for IWT magazine during the year. The award covers 110 magazines in Ireland representing all types of magazines from Image, U, RTE Guide, Cara, Hot Press, Sky Magazine etc..
Archive
Calendar Archive
News Archive